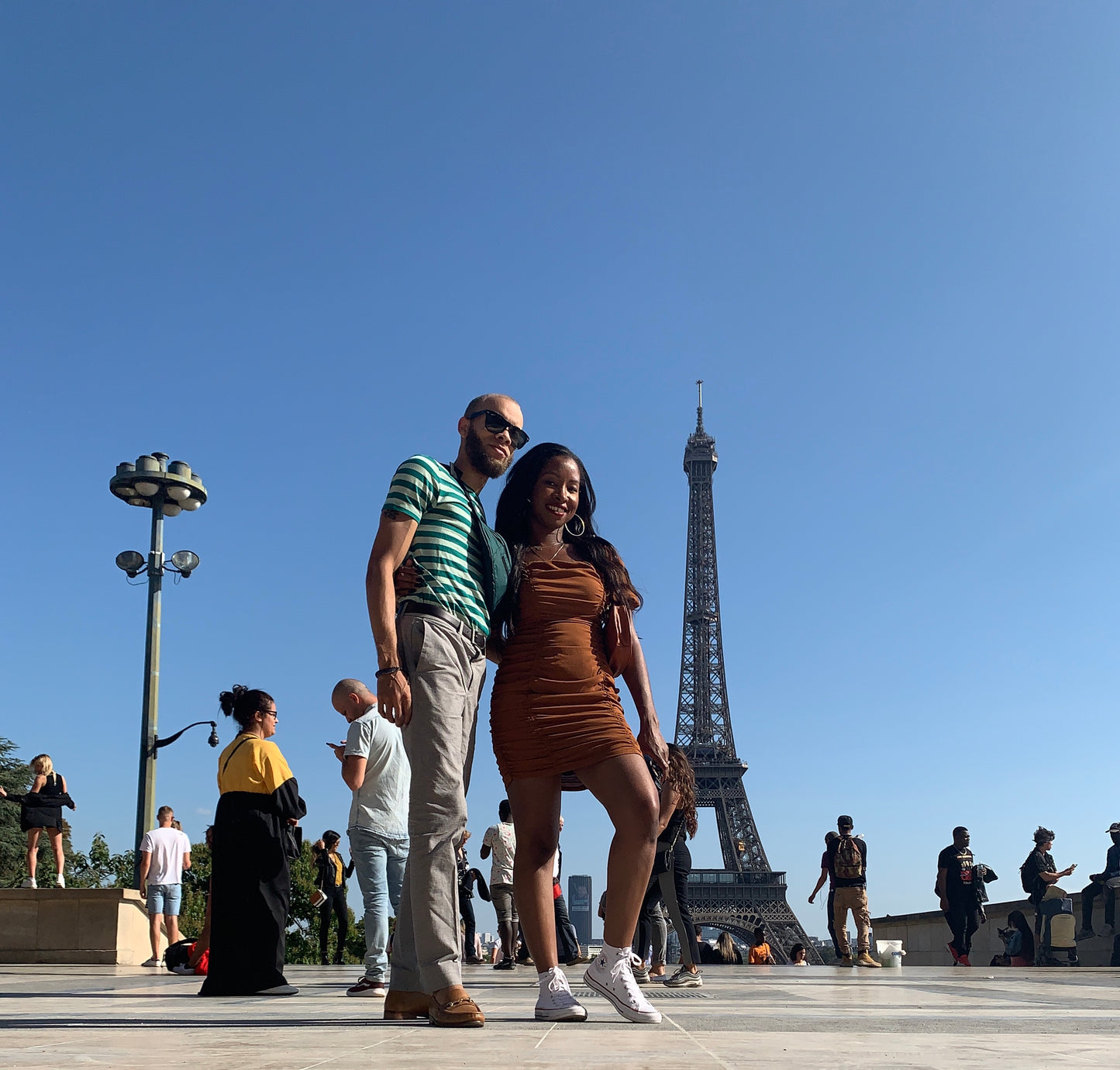 Paris was the first stop on our trip that I had been anticipating all year long.
An extended layover to experience what is known as the city of LOVE!
As a first time traveler to Europe, I think I over committed my mind to all the things I wanted to do, versus what my mind and body could enjoy.
At the end of the day, I had to focus in on US, enjoying this time free from responsibility, while enjoying the moment and man I am so deeply in love with.
So here is what made for the most perfect 24 hours in the capital of France!
Morning
-7:00AM-9:00AM~ landed, cleared customs and waited in a long taxi line for transport to our hotel.
We enjoyed this 30 minute ride into what I thought would be this bustling busy city. Moving through the different arrondissements, I think I was caught off guard. I was surprised that what I saw was very different from what I envisioned in my head.  The city was so quiet this morning! A few turns later, I began to see more of what my mind wanted. You never really know what you are going to get until you are right in it.
-9:30AM ~ we arrived on this picture perfect alley where our lodging for the evening was located. Hôtel Saint -Louis Pigalle, a charming boutique hotel with upscale appeal that made you feel like you were living a Parisian dream. Nested in the 9th arrondissement, with everything you could think of in reach.
We found our hotel on https://boutiquehotels-paris.com, per our friends suggestion. We didn't want to break the bank for one night especially with our early departure. We were able to find an affordable, yet amazing gem.
-10:00-10:30am ~ A Parisian breakfast courtesy of our hotel. A must in Paris, do it for the culture.
-10:30-12:00pm- Quiet walks through the city discovering the architecture and charm each cobblestone street brings. On a Saturday morning, the city is still sleeping and we enjoyed this time roaming and taking deep breaths and letting go of the scheduled list of plans.
 Afternoon
-12:00pm~ Thank God for early check-in, we needed showers and afternoon naps.
-3:00pm~ Taxi to the Eiffel Tower
-4:00pm~ Late lunch and Wine at Cafē du Trocadéro
-5:00pm~ Long walks through the city and shopping district of the Avenue des Champs Elysées.
Evening
-9:30pm~Drinks at No Entry Speakeasy
-11:00pm~Pizza Pit Stop
-12:00am~Crash at Hotel
-7:00am~ Next Day-Jetset to Morocco
Just 24 hours gave us a great sense of this vibrant city. Vernon's little French helped us slide by, but thankful for all the English Paris offers. Just that one day left me wanting more of Paris and discovery through Europe. We can't wait to bring our children back. 
Check our video for a fun visual of our experience.
Xo,
Monique